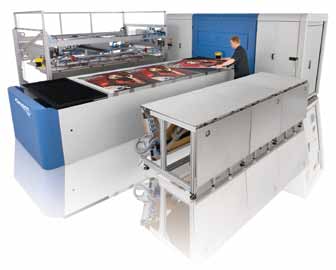 LARGE FORMAT PRINTING
Quad/Graphics has revolutionized its large format printing business with the implementation of the new EFI VUTEK GS3250LX printer and the Inca Onset S40 printer. These additions allow Quad/Graphics to produce higher quality images extremely fast, with incredible consistency.
• Increased speeds of over 90 high-quality 5' x 10' sheets per hour
• True 1,000 DPI print capability
• Ability to print spot UV gloss inks on a wide range of substrates
• Consistent print photo-quality images, crisp text and vibrant colors
• Advanced 3-layer white ink printing on a wide range of substrates
• Innovative ink curing technology for high adhesion and durability
• Contains no VOCs, uses less consumables, produces less waste, uses less energy
Equipment
For a list of our large format printing equipment and their printing capacities please request an equipment list here.